Learning Moroccan Arabic
Learning Moroccan dialectical Tashlheet
Tamazight Dictionary: Tamazight - English and English - Tamazight
 
Moroccan Arabic (Darija) Textbook. 2017 version.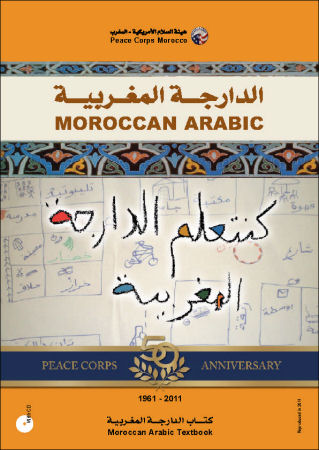 Moroccan Arabic (Darija) Textbook. 2011. Peace Corps/Morocco, led by Training Manager Abderrahmane Boujenab, substantially revised in 2004 lessons from the Peace Corps' 1994 Moroccan Arabic book by Abdelghani Lamnanouar, rewrote some lessons completely and added new material to arrive at the 2004 edition. Language instructors Aicha Ait Cherif, Malika Boukbout, Mohamed Mahmoudi and Abdellah Ouhmouch contributed. Layout and design was by Morocco RPCV Stephen Menicucci.
In 2011 the book was republished is available here in PDF (26mb) and zipped (20mb). Associated audio files (very large 426mb file).
The Darija Technical Booklet for environment volunteers (43 pages) provides dialogues, vocabulary and translations to support thier work.
The Darija Technical Booklet for health volunteers (43 pages) provides dialogues, vocabulary and translations to support thier work.
Trainees use the manual with their LCFs during the PST and with their tutors at their sites. Its competency-based approach made it a reliable tool in learning the basics and survival Moroccan Arabic dialect in some weeks.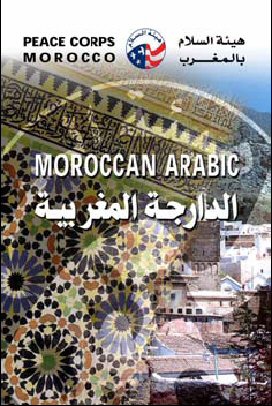 Chapters of the 194 page 2004 version of the manual are available from the FOM website. Thanks to volunteer, Bill Day.
A copy of the entire 2004 textbook in MS Word is available for download in zip (2,321 kb) and native form (7,433 kb).   Complete PDF file (5 mb) of the entire textbook, with illustrations, zipped and suitable for download. Users of this information should credit Peace Corps Morocco.
On a related note, Bab Dar is the Peace Corps Morocco produced phrase book for Moroccan dialectical Arabic. FOM has permission to also transcribe it to the web. The volunteer needs a scanner and skills with word processing/OCR or web software to copy the pages and to work the images/text into a downloadable document or a set of web pages. Contact timresch@gmail.com if you have the skills, equipment and interest.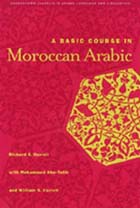 A Basic Course in Moroccan Arabic
Richard S. Harrell, with Mohammed Abu-Talib, William S. Carroll, Foreword by Margaret Nydell
$27.50  ISBN: 0878403876LC: 2002033909 Book (Paperback) 6 x 9 416 pages June 2003

A Basic Course is a textbook in spoken Moroccan Arabic written for beginners—those who do not know the Arabic language or alphabet. Written in Latinate transcription for this reason, it is carefully designed to present vocabulary and grammatical points in a useful, cumulative order. After completion of the course, the user will have learned all of the essential information about the structure of Moroccan Arabic and be prepared to continue through real-life practice.
Each of the 130 lessons consists of a text where a small number of phrases and sentences illustrate grammatical points, grammatical notes that provide an explanation of new grammatical material introduced in the text, exercises and drills of new grammar and vocabulary, and vocabulary lists of the new words introduced in each lesson. Each lesson leads the student to a thorough understanding of the structure of Moroccan Arabic

The course also offers 97 short, conversational dialogs that challenge the student in a variety of social situations. Eleven remastered audio CDs are also available for this course (sold separately, see link below). First published by GUP in 1962, this book has not been superceded. It stands out for its accessibility to students of Arabic language but also to those ambitious travelers headed to Morocco for business or pleasure.
Of Related Interest:
A Basic Course in Moroccan Arabic: Compact Discs for A Basic Course in Moroccan Arabic
A Short Reference Grammar of Moroccan Arabic with Audio CD
A Basic Course in Moroccan Arabic MP3 Files: Audio Exercises
 
Arabic schools in Morocco
Arabic language web-sites
French language web-sites
Meta language web-sites